Dublin Gulch
"Don't bother to tarry in America, go straight to Butte," was the call of many an Irish immigrant to relatives back in Ireland.
Most of Butte's Irish came from West Ireland, predominately County Cork, but thousands immigrated from Counties Mayo and Donegal as well. David Emmons, author of The Butte Irish, states that by 1900, Butte had 12,000 residents of Irish descent in a population of 47,635. At the turn of the nineteenth century, over twenty-five percent of the population was Irish, higher than any other American city, including Chicago and Boston.
Dublin Gulch has finally reached beyond the quarter century mark and is still going strong. For the past twenty-nine years, Butte native son, Tom Powers has led the group with his vocal prowess and encyclopedic knowledge of songs.  You might recognize him if you step into the Silverbow County Courthouse.  Tom is the official clerk of court.
Mick Cavanaugh, aka The Tin Whistle Wonder of Walkerville, is a quadruple threat on banjo, mandolin, whistle, and guitar. He also adds his vocals to the mix.  Mick was an Irish Lebanese pirate in his former life.
Jim Schulz claims he has at least one drop of Irish whiskey in a giant keg of German beer which allows him some genealogical credibility (albeit shaky) to play the music. You can hear him on guitar, bouzouki, mandolin, banjo, and bones as well as lead and harmony vocals.
Fiddler/banjoist John Joyner is the hillbilly of the band and can trace his Norman roots to William the Conqueror by way of Virginia. He adds real spice to the group with his unique blend of Celtic, bluegrass, jazz, and old-timey sensibilities.
New members include: Conor Powers on percussion and Luke Michelson on bass and violin.
 Dublin Gulch has been featured on Rich Warren's The Midnight Special-WFMT, Chicago; Penn State's The Folk Show and NPR's Here And Now with Robin Young as well as Thistle & Shamrock with Fiona Ritchie.
© 2020 Dublin Gulch. All Rights Reserved.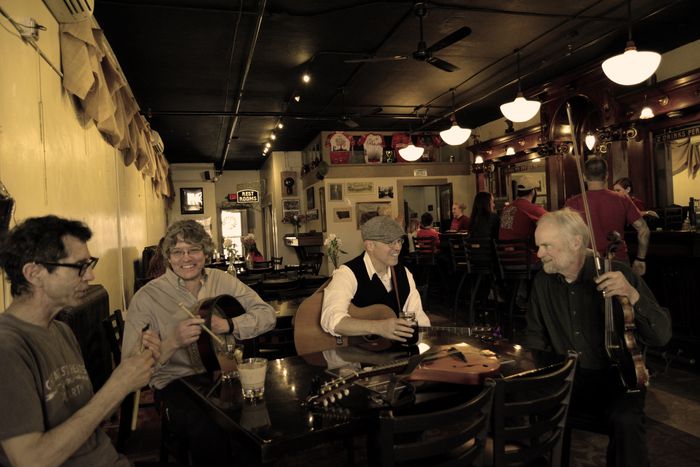 A CLASSIC TREAT!
The Butte Pasty (pass-tee)
(From the kitchen of Maureen Mansfield, wife of Senator Mike Mansfield)
1/2 lb. raw beefsteak, cubed (or ground beef)
1 cup coarse chopped onion
1 large Tbsp. butter
1 medium potato, cubed
Pie Dough:
1 1/2 c. pastry flour
1/2 tsp. baking powder
1/4 tsp. salt
1/3 to 1/2 c. shortening
1/4 c. cold water (about)
Sift together flour, salt, and baking powder; then mix in shortening and water and shape and roll as in directions.
For 1 pasty, take 1/2 the dough.  Roll thin to shape and size of pie plate.  Pile half the onion, potato, and meat on 1/2 the round of pie dough to one inch from edge.  Sprinkle with salt and pepper and dot with butter.  Fold other half of round over filling, press edges together well and crimp.
Place 2 pasties in pie plate.  Cut slit in top of each, into which a teaspoon of hot water should be occasionally poured to keep from drying out.  Bake 3/4 hour in hot (400º) oven or until well browned. Reduce heat to 350º for fifteen minutes.  Serve with brown gravy.